The multi-day trips are becoming popular and this was a fantastic event. Planning for this even started early but couldn't finalize venues until late due to Covid shutdowns in CA. Our very good friends from So Cal planned everything at Mammoth and everything was phenomenal including the gatherings, food, views, drives, etc; Read on for a day by day breakdown.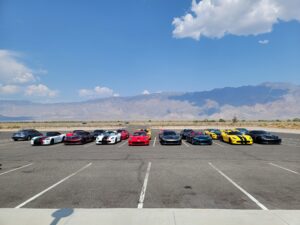 Day 1 – Phoenix to Hesperia
8 cars from Phoenix headed up to Hesperia for the first night with 2 others joining us later. As you can imagine just driving down I-10 is no fun, except for a stop we made at the best beef jerky shop in Quartzsite, thanks to a suggestion from Will and Kacey. It was so good, everyone packed extra to sneak a bite for the rest of the trip. I hear most everyone stopped here on the way back too.

Day 2 – Hesperia to Mammoth Lakes
Few So Cal members met us at the hotel in Hesperia and about 14 cars drove up to the main meeting point at Indian Wells Brewery. The So Cal members greeted us with a fine display of Vipers and in all we had 20 cars. After a small tasting of the beer and enjoying meeting old and new friends, we took off to head to lunch at a near by town and then over to Mammoth. The views as you get close to Mammoth were just fantastic. The beautiful mountains, the smooth black tops, and the cool air was a refreshing. We checked in and met up for dinner. It was good timing that there was a margarita festival going on and the drinking, dancing and camaraderie continued until late in the night.

Day 3 – Mammoth Lakes
The day started early for some members who took at hike to Devil's post pile. The formations were fantastic and drive up there was pretty good too. Everyone was back and ready to leave with the group for a cruise around Mammoth. The roads were windy and the rollers were fun. Some folks said to have got some air on the rollers. We had lunch in a small town and headed back to the hotel to rest some before dinner.
Dinner was an event in itself. With a scare of it getting cancelled due to thunderstorms in the area, the event organizers were scrambling to find an alternative. However, the clouds held and we were able to go up the mountain as planned. All 20 cars drive up to the gondola station to take a ride up the gondolas. To say the views up there were beautiful would be an understatement. At 11k feet and a 360 degree view around you, it was mesmerizing. Dinner was very good and everyone had a great time. As we headed down, knowing we were leaving the next morning to go to Napa, we said our goodbyes to those heading home and called it a night.

Day 4 – Mammoth Lakes to Napa Valley
We were unsure until the last minute which route to take to Napa. There were some wildfires in CA which closed a few scenic routes and we were worried we'd have to stick to the interstates. However, news was great that morning and the scenic route through Yosemite National Park was open and that is what we chose to drive through. Again the smooth black tops, cool breeze and fun windy roads welcomed us into Yosemite. Due to Covid, you could only drive through the park with no option to stop for picture. Only hikers with passes reserved multiple months in advance could park. Nonetheless, the drive through was awesome and the views were endless. The twisties didn't give way even after we left the park. The beautiful roads continued for another hundred miles and it was all smiles driving through. Lunch was a quick stop and we arrived at our hotel in Napa around 3.
We parked our cars for the night and ubered downtown for dinner which was a great location and so was the food. We chose to go to a roof top bar after to sit around a fire pit and relax amongst good friends. Surely the night doesn't end there. Most everyone gathered around the hotel pool until we called it a night.

Day 5 – Sonoma and Napa Valley
We arranged a bus to chauffeur us around all day. The day started at 9am driving up the farthest winery we wanted to go to and making stops heading back from there. We went to Amista Winery first and while it was still cool outside, the setting was awesome and we started the day with some refreshing bubbly. Back on the bus, with loud music and folks starting to sing already, we stopped to pick up lunch at a bakery for a picnic style lunch at our next stop, Christopher Creek Winery. Sitting up top with a view of the wineries around you is a great experience. We tasted some good and expensive wines here. 3rd stop of the day was at Benziger where they set up tasting inside the cave. The natural temperature inside was a cool 70 degrees and the entire setup was beautiful. Having been wined all day, we went to dine, back to the pool and called it a night.

Day 6 – Napa Valley
Today was the day to drive around some. We left our hotel at 9 am to go through some scenic routes. On our route we found the "Welcome to Napa" sign where we got a chance to take some pictures. Our next stop was the Petrified forest where we did a walking tour and headed out on the first of the routes which was bumpy but boy was it fun. The second route was smooth and also equally fun. We were actually surprised at how good those drives were near to Napa. After a full morning of driving, we headed downtown to get some Napa famous burgers and walked around town for a bit. We then headed to our last winery, Miner, where we got a tour of their facility and another tasting arranged in the cave. This was an even bigger cave and the whole experience was awesome. We headed back to the hotel to freshen up for dinner and ubered downtown again for dinner. After dinner we said our sad goodbyes as people were leaving at different times the next morning.

Day 7 – Napa Valley to Phoenix
Few folks extended their trip to enjoy what CA had to offer, and others made the safe drive back home.
Overall, it was a very memorable trip. Many strong friendships were bonded and we cannot wait to do this again. Huge shoutout to Amy Vemulapalli and Jennifer Miller for planning the Napa event. Pics below are in no order.